Unleash The Summer Magic with Sports Camps
Summer is a season for play. If you're keen on your child breaking free from the ordinary, embracing the fun, becoming active, and savoring every moment, then you're in the right place. Sports summer camps present an unparalleled opportunity for kids and teens to step up their game, unwind from their everyday routine, and get active after months spent indoors. At Best Parents, we offer a diverse selection of sports summer camps from renowned institutions and boarding schools in the world's most iconic locations - the US, UK, and Switzerland. With our carefully curated offerings, you'll discover top-notch sports summer camps that can transform your child into a star player and a valued team member.
Our Sports Camps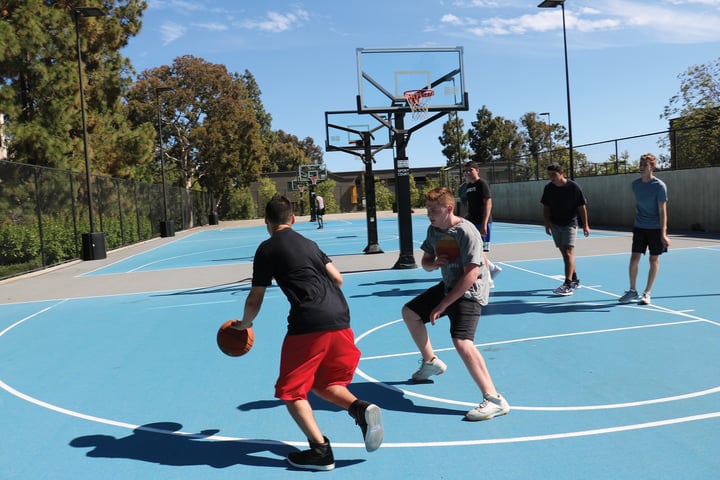 Teenagers playing basketball at UCLA
The Benefits of Choosing Sports Summer Camps
The time has come to swap screens for sunshine and sports! This summer presents the perfect opportunity for your children to step outside, engage with peers, and embark on a journey toward a healthier, more active lifestyle.
Sports summer camps are all about skill development. They provide young learners with intimate instruction in specific techniques and strategies designed to enhance their performance across various athletic activities.
The structured environment at our camps not only helps children refine their sports skills, but also cultivates better social interactions. They learn the essence of being 'better sports,' understand the significance of fundamentals, practice, and training, and delve deep into the importance of a positive, interactive environment.
Our Sports Camps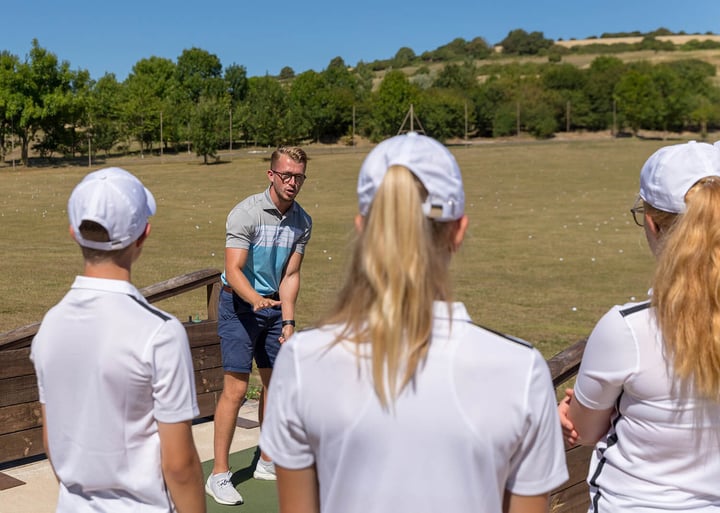 Male and female students look on as golf instructor shows a good swing
An Inside Look at our Sports Summer Camps
Our sports summer camps seamlessly merge a traditional summer camp experience with specialized sports training.
Based in renowned schools across the UK, USA, and Switzerland, our camps offer a transformative experience, uniting young players from across the globe to live, train, and play like professional athletes.
Players benefit from a blend of coaching, skill challenges, and small-sided games. Focusing on four key aspects of development - technical, physical, psychological, and social, players are challenged to enhance their individual skills and techniques. They depart with a deeper understanding of themselves as players, gaining confidence and insights from an international setting. Every player also receives a personalized coaching assessment and certificate to bring home.
Our programs typically include a robust weekly exercise schedule, teamwork and personal development projects, daily and weekend activities, and local excursions. Participants take full advantage of the facilities, reside in student accommodations, dine with friends, and experience a truly memorable summer.
Our Sports Camps
Our sports summer camps offer an immersive experience at globally acclaimed institutions in beautiful locations across the US, UK, and Switzerland. Here's what we promise:
Personal growth: We challenge and support children to develop their skills while creating lifelong memories.
Improved physical health: Regular physical activity leads to better sleep, cardiovascular health, and overall well being.
Essential life skills: Campers learn the value of collaboration and independence, enhancing their teamwork and individual abilities.
Resilience: The discipline instilled at our camps encourages a stronger determination and resilience.
Holistic development: Participants grow physically, emotionally, and mentally.
Confidence: Kids gain self-assurance through their achievements.
Strategic thinking: We nurture problem-solving skills through trial and error learning cycles.
Focus: Our programs help children improve their concentration.
Socialization: Participants enjoy social activities and form friendships with peers from around the world, fostering an appreciation for diverse cultures.
With the guidance of the Best Parents team, you can find the ideal sports summer camps for kids and teens.
If you're interested in our Sports Summer Camps for 2022, browse our selection of courses, schools, and locations below, or get in touch with an advisor. We're here to help.
Our Sports Camps