Parents, it's time to prepare your tickets, signed by your children, because we're going on a special trip to Switzerland's beautiful countryside. But this trip is not to look at fast cars or talk to smart machines; instead, we are exploring the wonderful world of Swiss summer camps, each a special place for your child's growth and enjoyment.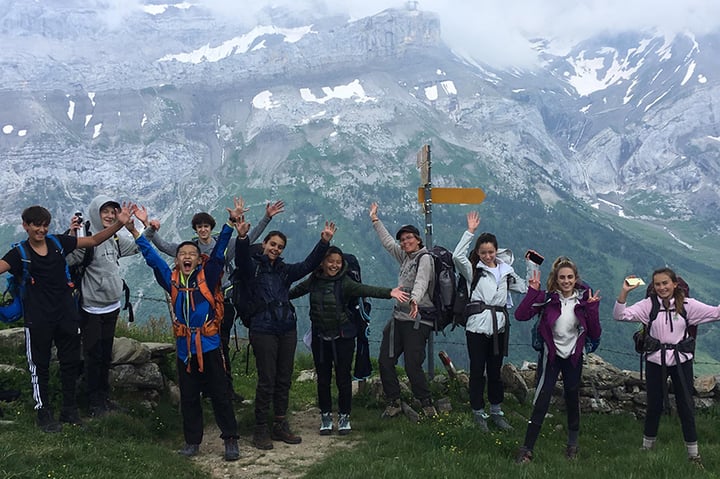 Scale to new heights in the scenic Swiss Alps with your fellow campers
What Makes Swiss Summer Camps Special?
Swiss summer camps and summer schools - they are not just games and activities that happen when school is out. They are magical places where children make friends for life, learn to be independent, and become strong in mind and spirit. But with so many choices, how do we find the best one for your child? This guide will help you find the best summer camps in Switzerland, from exciting outdoor adventures to camps where your child can learn a new language.
Why Summer Camps are Good for Children
Swiss summer camps give many benefits to your children. They provide a safe and supportive place for your children to explore what they like, learn new things, and become more independent. By creating a feeling of community, they give children the chance to meet people from different places and learn how to work well with others. And, of course, these camps allow children to take a break from computers and phones, helping them build a closer relationship with nature.
A Luxurious Swiss Experience: The Best Learning and Fun
For those who want the best of the best, we have camps like Le Rosey, Leysin American School, and Aiglon. These camps offer an exquisite blend of fun and learning, setting the stage for an unparalleled summer experience. Alongside adrenaline-pumping outdoor escapades like canyoning, camping under a star-kissed sky, or trying their hands at mountaineering in the mighty Alps or sailing in serene Swiss Lakes, these premier camps offer language immersion in English, French, or German.
And the fun doesn't stop here. Imagine your child diving into a world of activities like acting and filming, showcasing their aim in archery, dribbling the ball in basketball, and expressing their creativity in arts. From the joy of cooking, capturing moments in digital photography, swaying to hip-hop, to exploring robotics, these camps leave no stone unturned.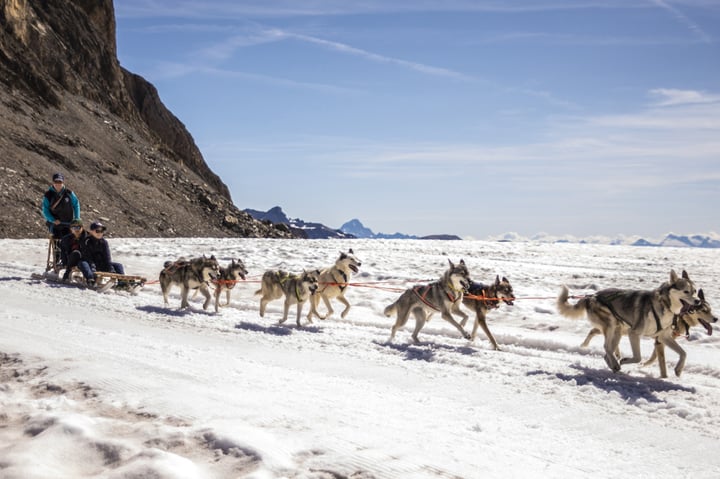 Get the unique opportunity to ride through the snow covered plains on a sled pulled by a team of huskies.
Every evening brings a new adventure – the thrill of inter-team competitions, the fun of discos, the delight of BBQs, peaceful lake cruises, or an authentic Swiss-themed dinner. Excursions to fascinating cities such as Lausanne, Interlaken, Bern, or Geneva add a dash of cultural exploration to their camp experience.
Not to be missed, Rosenberg, a camp recognized for its innovative summer activities and special focus on technology, is another jewel in the Swiss summer camp crown. It offers subjects that ignite young minds, like Environmental Science & Sustainability, Fashion & Textile Design, Fine Arts, Coding, Performing Arts, and Robotics and Engineering.
For this grand Swiss adventure, you can expect to invest between $8000 USD to $19000 USD for a two-week unforgettable experience. This cost covers accommodation and activities, making it a complete, worry-free package for your child's enriching summer experience.
Diving into Splendid Mid-Range Swiss Summer Camps
Take a step into the extraordinary world of St George's and Les Elfes. They serve up amazing summer camp experiences for your kiddos, all at a somewhat lighter price tag. St George's offers canyoning, camping under a star-kissed sky, or trying their hands at mountaineering in the mighty Alps, as well as weekly language excursions to beautiful sites such as, Geneva, Bern, Gruyere or even a trip to Chamonix, France so children can speak French.
Les Elfes has a unique charm, with its exclusive focus on camp experiences and a calendar brimming with activities in June. This makes it a hot favorite among parents from India, whose summer vacations often coincide with this month. For a two-week immersion in these delightful mid-range camps, parents can expect to part with anything from $5000 to $8000 USD. But let's be clear: 'mid-range' in price, not in quality. Each camp that Best Parents promotes is a glittering 5-star experience, meticulously evaluated by our expert advisors and approved by our extensive community of hundreds of parents.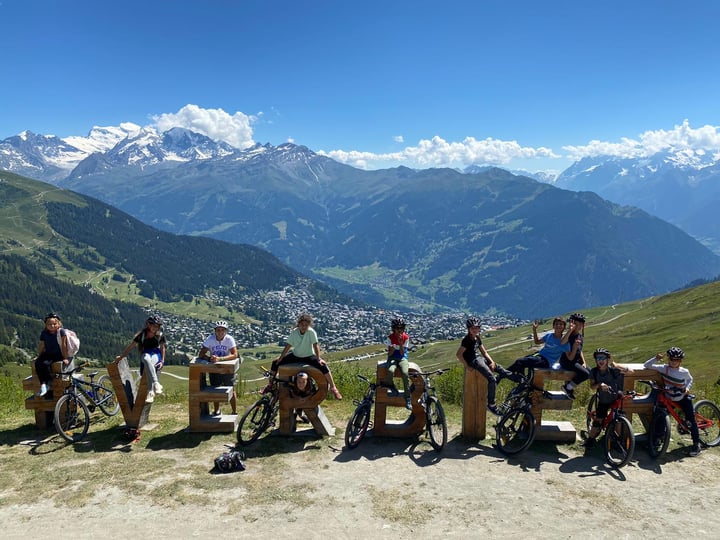 Have a blast mountain biking through the vast hills of the Swiss village, Verbier
Activity-wise, these camps are like an all-you-can-play buffet. St George's features Tennis, golf, minigolf, football, volleyball, beach volleyball, streetball-style basketball, table tennis, squash, badminton, pétanque – you name it, they've got it! Just a hop, skip and jump away from the campus (we're talking a two-minute walk here), you'll find an indoor and outdoor swimming pool nestled in a sprawling garden - a picture-perfect spot to unwind.
Each day, your little campers can choose to soak up some fun at the pool, which comes complete with diving boards and – added in 2020 – thrilling water slides. It's an ideal place to socialize, enjoy the company of friends and staff, and beat the afternoon heat. Encircled by mountains and a stone's throw away from the campus, children can grab a delightful ice cream, soak in the picturesque view, learn some fun new skills, and simply enjoy life. The camp also provides opportunities for lake swimming and an exclusive chance for some campers to swim up in the Cabanas at Tanay. If structured swimming lessons are what you're after, simply make a request upon registration, and voila – it will be arranged! And did we mention water skiing, wakeboarding, tubing, and banana boating?
As dusk falls, the evening calls for entertainment. Several times a week, your children will find themselves engrossed in exciting activities. Bowling, quiz night, cinema night, treasure hunt, ice skating, talent night - the fun never ends! And Fridays? Those are the cherry on top. As the week winds down and goodbyes loom on the horizon, it's time for a hearty barbecue in the gardens, followed by a scintillating disco or silent party. So it's time to lace up those dancing shoes and boogie the night away!
A Call to Young Explorers: Outdoor Swiss Summer Camps
And for the young explorers who love being outdoors, camps like JFK in Gstaad are like a dream. Located in the heart of nature, these camps offer exciting nature based activities in a beautiful setting.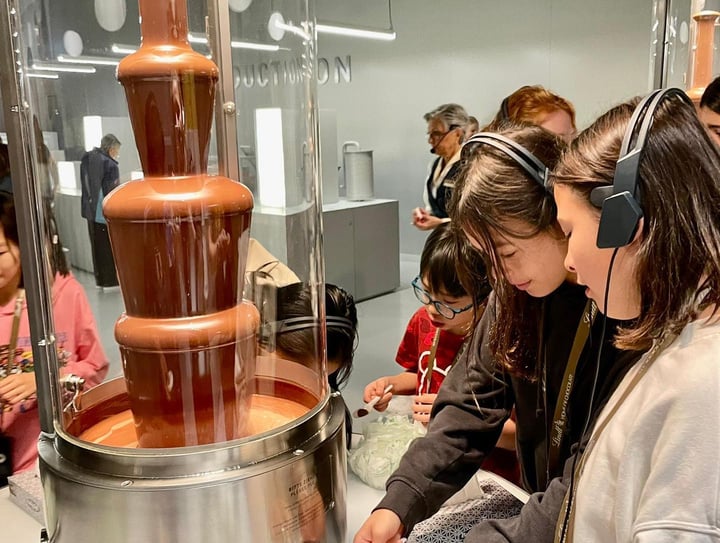 Learn how world renowned Swiss chocolate is made from the master chocolatiers themselves
The Magic of Swiss Summer Camps
Swiss summer camps are a wonderful mix of nature, adventure, and culture. They offer many different activities – from hiking, rock climbing, and rafting, to learning a new language, music, dance, and theater. The beautiful Swiss scenery adds something special to the camp experience, with modern facilities like well-equipped sleeping areas, eating areas, sports fields, and classrooms.
Safety and Comfort in Swiss Camps
Making sure campers are safe is the most important thing at Swiss summer camps. They have strict rules, and trained workers who know how to give first aid and respond to emergencies. Also, the places where children sleep are comfortable and clean, often separated by age and whether the child is a boy or girl, and the food is made to fit different types of diets.
Choosing the Right Camp for Your Child
Choosing the right camp can seem difficult, but if you think about what your child likes, needs, and their personality, the job becomes easier. Consider reading what other parents and children have said about the camp, and check the camp's safety record and the qualifications and training of the workers.
A Swiss Summer Adventure They'll Never Forget
Swiss summer camps give children a chance to grow, learn, and create memories that will last a lifetime. With many types of camps to choose from, you can find the perfect one that fits your child's needs. These camps, with their focus on safety, friendly environment, and many fun and interesting activities, offer a great way to spend the summer.
So are you ready to pack your bags and set sail to the exciting world of Swiss summer camps? But don't worry, the journey doesn't end here. We have more to show you. Check out the detailed timetables of some of the camps we have offered. Get in touch!
Browse Swiss Camps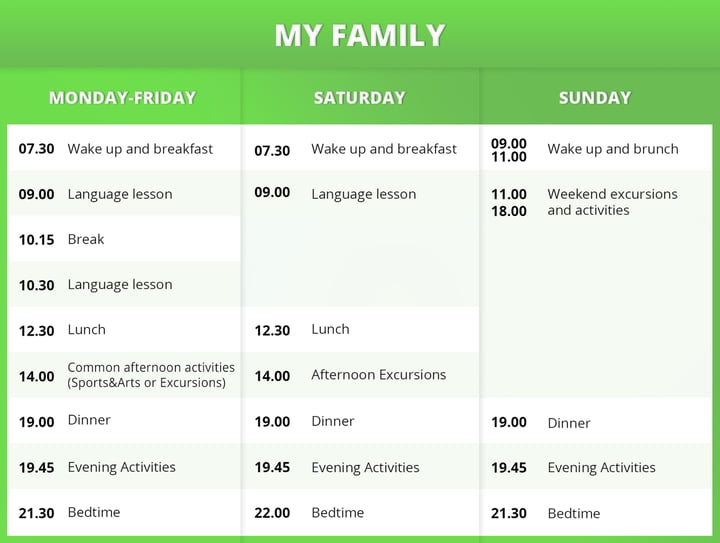 Typical timetable at Le Rosey's My Family summer program