Dive into English: Summer Language Camps Awaiting You
Ready to boost or hone your English skills? Craving to connect with other language enthusiasts in a lively environment? Welcome to our English Language Summer Camps! These programs are your go-to platform for practicing speaking, grammar, listening, reading, and writing skills, and expanding your vocabulary through curriculums tailored to all age groups. At Best Parents, we're proud to offer an array of English language summer camps from top-notch schools in iconic global education hubs like the US, UK, and Switzerland, as well as online courses. Regardless of your level, beginner to advanced, we've got the perfect English language summer program for you.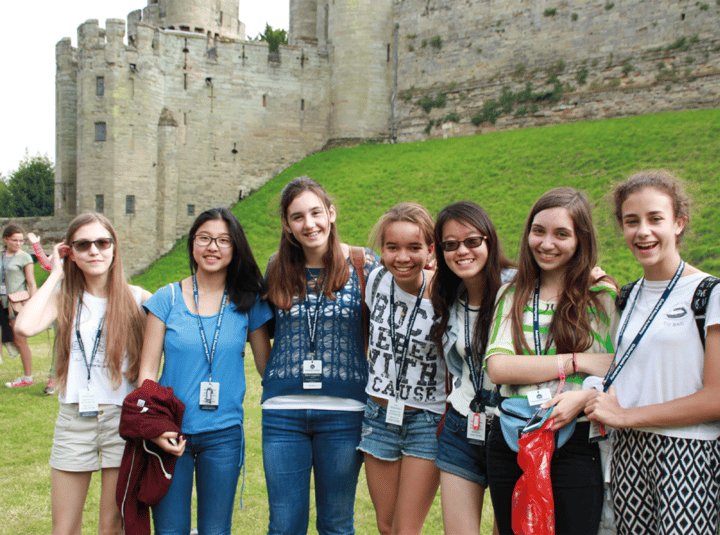 Kids exploring historic sites near Oxford University
Why Choose English Language Summer Camps
Are you eager to catch up, keep pace, or surge ahead with your English proficiency to become a global citizen in today's interconnected world? English Language Summer Programs are your perfect companions. They can amplify your vocabulary, refine your grammar, and enhance your conversational prowess, offering you a great preparation for TOEFL or college admissions.
With the relaxing ambiance of a summer camp, small, cozy classrooms, dedicated attention from skilled teachers, and the opportunity to bond with fellow English learners, these camps offer an engaging learning experience. Practicing English all day in a fun-filled setting makes our summer camps far more effective and enjoyable than traditional language courses.
Our English Camps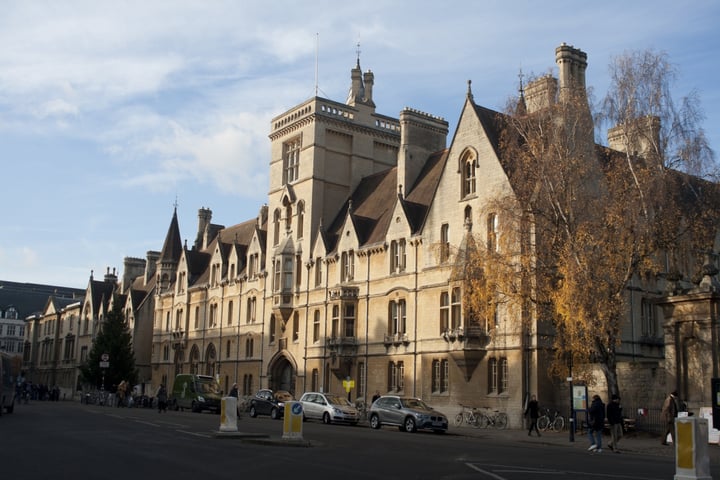 A glimpse into the iconic architecture and accomodations of Oxford University
Tailored to Fit - Unique Programs for Unique Learners
When it comes to learning English as a second language, we believe in a tailored approach, because every learner is unique. From on-campus to online courses, beginner to advanced, children to adults, we offer a spectrum of programs customized to individual needs in the UK, USA, and Switzerland.
The Inside Story: What Do English Language Summer Camps Look Like?
Nestled in the picturesque locales of Switzerland, UK, or USA, our English language summer camps are an immersive learning journey. They unite children, teens, and adults from across the globe, offering them a vibrant platform to live, learn, and engage in exciting activities and excursions.
Upon arrival, students' English proficiency levels are assessed, following which they are grouped according to their skill level and age. Taught in small batches by seasoned teachers, each learner is given individual attention to reach their full potential.
Our programs incorporate a well-rounded weekly curriculum, teamwork projects, personal development activities, daily and weekend explorations, and excursions around the campus. Practicing English throughout the day becomes an enjoyable inevitability. With access to all campus facilities, residing in comfortable accommodations, dining with friends, students are in for the most memorable summer of their lives. We offer both residential and non-residential (day camp) options.
For those who prefer to savor English language summer programs from the comfort of their homes, we have online courses. Prestigious language schools in the UK, US, and Switzerland, with their unique courses, are just a click away.
Our English Camps
Why Choose Our Best English Language Summer Camps?
Our English language summer camps offer a comprehensive experience in world-renowned language camps nestled in the scenic landscapes of the US, UK, and Switzerland. Learners can expect top-tier foreign language education in prestigious schools, modern and well-structured language courses in small, supervised groups, and abundant opportunities to practice their skills in person during social activities. This is a golden opportunity to appreciate global cultures and form lasting friendships.
We also offer parent-child summer English language camps for families who enjoy a shared learning experience.
With the support of the Best Parents team, you can find the most suitable English language summer camps for your children, teens, or even yourself.
If you're interested in the best English Language Summer Camps for 2023, browse our shortlisted schools and locations below or connect with an advisor.
Our English Camps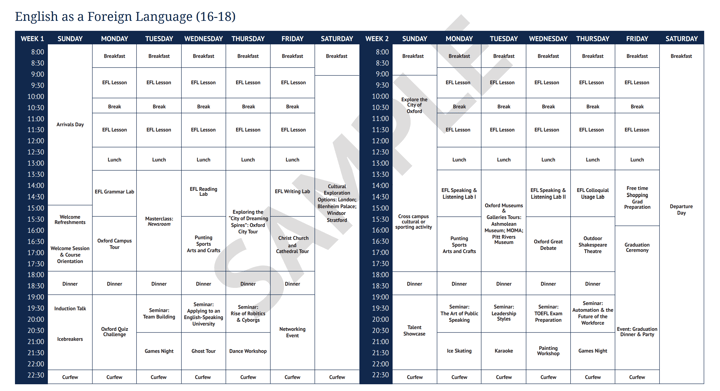 Example timetable from one of our amazing English language summer camps